Papervision Collada Viewer (made in Adobe Air)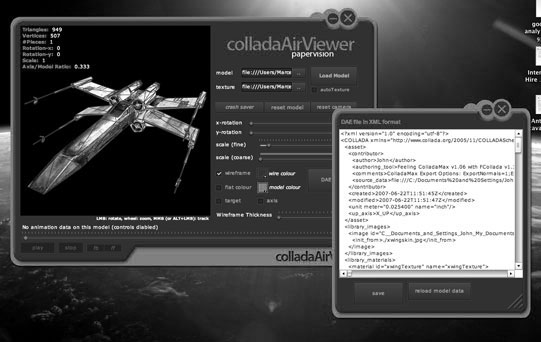 Well, I have been stuck working on some other things lately (like trying to fix the bottom bracket of my bike 🙁 and am currently still working on my linkages tutorial. Just trying to determine how is the best way to present it (I'm new eh – Canadian for emphasis ;). In the meantime, I am going to give everyone interested in bringing 3D models into Papervision a present:
An air app that allows one to load and edit Collada animated/non-animated models!
This was a project I built in a few weeks between projects, while working as an intern at Fuel Industries. As it seems not all Collada models exported from 3D packages such as Blender, 3DMax, and Autodesk's Maya load properly, I figured building a robust app that could install on any machine for 3D artists to test out their models before any flash/flex work would be a time saver.
Anyhow, I ran out of time and could not add some features such as undo states, loading other types of models (MD2, 3DX et cetera), and the ability to know why a model would fail to load properly. But I am going to include the entire Flex project so that if anyone wants to add any features to it go right ahead. Please feel free to comment back with the changes you have made and some code so others can build upon it, if you can.
This is the current list of features:
load a Collada model from a local source
scale, rotate, or orbit model using mouse controls
ability to auto-texture
manual texturing includes ability to turn off and on wireframe or flat colour
ability to play through animations, frame-by-frame, or as would be expected
ability to open up a secondary window that shows loaded models Collada .DAE data
ability to edit and save .DAE data (in XML format).
Hopefully you can find this useful. If you do let me know.
Here is the air app with transparent windows enabled
Here is the air app with transparent windows disabled (runs better on slow machines)
Here is the entire Flex project (unzip and import existing project in Flex Builder)
And some sample Collada models
(And if you don't have the Air framework installed already you will need it before you can install any Adobe Air applications. Get it here: http://get.adobe.com/air/ )
Enjoy! 🙂

NOTE: If you are having troubles building the project make sure to check out which version of Flex Builder you are using. I did not update FB3 while building this so the line in the ColladaAirViewer-app.xml is

You may have to change it to: